Ferrino works with trusted and suitably qualified suppliers, operating in accordance with specific quality plans based on the supplier own self-control systems and our own inspection visits. After being designed internally, Ferrino purchases the finished product from its suppliers (Value Suppliers) most of which are located in the Far East. The product is then sent to the final client after the last quality checks carried out at our headquarters ("PR00 Organizational Configuration"). In general, with our suppliers, especially our core suppliers, named here Value Suppliers, it is our custom to establish long-term relationships, based on principles of fairness, responsibility and mutual respect, as demonstrated by the diagram dedicated to the seniority of our Value Suppliers.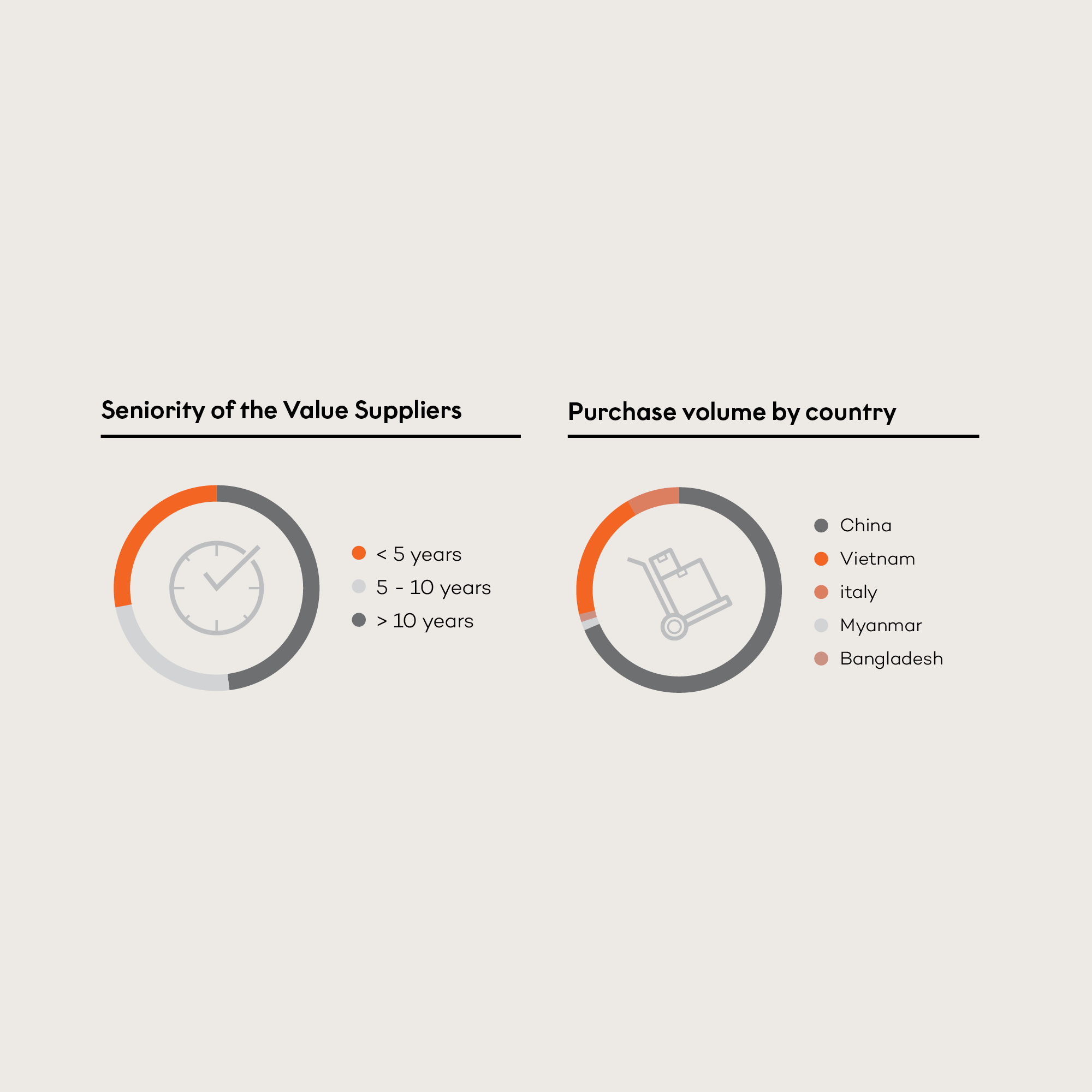 Growing together
We believe it is important to build long lasting relationships with our suppliers: the combination of different skills and experiences, combined with the desire to improve and grow together, allows us to create products of significant value: Ferrino products.

An international supply chain
Ferrino's brand products are the result of our design and know-how. To make them we choose partners that allow us to guarantee reliable and high quality products. We consider our suppliers to be strategic partners and this is why we establish a relationship of trust with them, creating long-term partnerships based on the principles of fairness, responsibility and mutual respect. This is what we call "Value Suppliers".
50% of our suppliers have been working with us for more than 10 years
Careful selection
When selecting our suppliers, we prefer large, structured companies with environmental and/or social certifications.
Quality control
Thanks to the quality controls carried out at our suppliers' premises and at the Ferrino headquarters, we check that the products meet our standards.
Transparency first
In order to establish long lasting relationships, it is essential that objectives and rules are shared. All our suppliers are required to sign and comply with the Safety Plan drawn up by Ferrino. A plan that establishes quality requirements, production and raw material quality standards, and the sharing of the code of ethics.

100% of our suppliers respect the Safety Plan.
51% of our suppliers hold environmental and/or social certificates