Antonio Di Guida, a nomad on two wheels
For more than 10 years, Antonio Di Guida has been travelling the world. To call him a tourist or traveller would be reductive, because his adventures are not 'pauses' to everyday life, but real pieces of life, even entire years spent living and working in faraway places, which end up becoming 'home'. In short, he could be defined as a true nomad on two wheels, because after his first experiences on foot and backpacking in Australia and Africa, he got on his bike and never got off again, travelling the length and breadth of Asia and South America.
For a long time Ferrino Outdoor has been at his side, providing equipment such as the Nemesi 2 Pro tent, which he himself defines as "ideal for those who travel by bike: a very light tent, which can be used with both sheets or just the inner mosquito net, and which can also be set up without having to put up pegs".
We intercepted him on his return from his latest adventure, a three-month trip to the Middle East.
Antonio, tell us something about this recent experience...
"I've travelled between Israel, Palestine, Jordan and Sinai, a part of the world that has always piqued my interest, also because of the complex political events surrounding it, but about which, said plainly, I've never understood anything by looking at things from Italy, through media reports and books.
So, what better way to understand what is going on than to set off on my bike, to come into direct contact with that reality, to meet the people, the families and share a little piece of their lives?
This trip, although it lasted a short time by my standards - my visits to Asia, Australia and America for example had lasted up to two years - was full of encounters and experiences, both positive and negative, that taught me so much. I moved around making contacts with various volunteer projects and I believe this is the best way to get to know the local realities. I worked for to five hours a day at associations, schools and social farms in exchange for board and lodging, thus having the opportunity to get around on my bike and, above all, to enter into the daily life of those places and lives'.
What struck you most in this direct encounter with people?
"The thing that struck me most was the extraordinary humanity I encountered. We are used to thinking of the Middle East as a theatre of war, a place full of danger and from which it is better to stay away.
Instead, I always felt welcomed and protected. It is a feeling I have already experienced when travelling in countries with an Islamic culture. There they say that the host is sacred, and these are not just words!
What one perceives is a great warmth, a desire to share one's story, to tell oneself. Beyond all possible differences and cultural distances, when you manage to enter into everyday life you meet other people like us, who simply aspire to live their lives in serenity and happiness and to share their days with others".
You had already experienced something similar during your long stay in Iran...
Yes, absolutely, that was one of the most important trips of my life, so much so that I wrote a book about it. Beyond the rumours that circulate, the reports and messages that reach us through mass media, I think that to really get to know the reality of countries other than our own, it is important to get closer to the people who live there, or even to those who live in our country and come from those countries.
Before embarking on a trip outside the classic tourist destinations, it is obvious that doubts, fears and prejudices arise, but we must not let them get the upper hand... it would be a bit like bandaging your head before falling off your bike!
Let's talk a little about the bicycle: is it more a tool or a purpose for your travels?
"For me, the bicycle is a bridge, something that allows me to bridge a distance, whether physical, emotional or human, and a chance to experience encountering myself, people and territories.
Little by little, I have learnt that the bicycle is able to let me experience certain moments that I would never be able to experience backpacking or travelling by public transport.
For example, travelling on foot I would not be able to cross arid areas for days on end where there is no food or water. With the bike I can manage to do that and then maybe stop in remote villages, which have not seen a foreigner for 10 or 15 years, and that for me is an extraordinary richness. What I am looking for is an encounter with this genuine everyday life, with a local culture and tradition unpolluted by tourism. A dinner at a family's house, a chat while walking together through the fields, these are precious things that stay with you and change you. On one of my last trips I even found myself being a guest at the wedding of a Bedouin....
I mean, you wake up in the morning, you start pedalling and you don't have the faintest idea of what's going to happen to you and when you get there in the evening and you lie down on your mat you say to yourself: damn, what a day it's been today? And it's always like that!
How do you manage long journeys like yours, also from an economic point of view?
"First of all, let's get rid of the myth that you can manage to travel and do it for years without money. Money is very much needed, which is why it is important for me to stop in certain places during my travels in order to work. In Australia I stayed there for a whole year because I worked as a labourer on a building site, then I lived and travelled for two years in Asia working in hostels. I did yoga classes, massages, and entertainment activities to earn some money. Over time, I invested in myself and my business as a traveller: I bought photographic equipment to make reportages, I started looking after my website and in 2015 I printed my first book. All activities that, little by little, have allowed me to make a financial return and that, above all, complete me, make me feel good and allow me to bring my message and my vision of travel to others.
Today I can say that my job is really that of a 'travel blogger', that is, a digital nomad who works with his computer and camera thanks to the sale of his reportage and books.
This year I also launched an online cycle travel school, precisely to inspire as many people as possible to travel by bike and to seize the medicine that can be found in travelling'.
What are the biggest difficulties faced by those who want to start out as travellers?
"The biggest difficulty, in my opinion, lies at the very beginning, in breaking down roots.
Each of us, in our daily lives, builds a routine, a comfort zone from which it is always difficult to detach ourselves. Once this first step is taken, the rest comes a bit by itself.
The art of making do, in my opinion, is something innate in man and it is enough to awaken it, to exercise it a little to learn how to live and adapt in any situation and in any part of the world.
Unfortunately, it is young people in particular who grow up surrounded by this comfort from which they find it hard to detach themselves in order to leave, perhaps a little blindly, without a precise plan, without a real destination. But the journey, the real one, is also this: spending moments when you don't even know what you are doing and wondering how you ended up in that situation. On the journey you rediscover many things, because you find yourself talking to yourself and you do it outside your comfort zones, in places o your soul. You find yourself lost and what you can do is simply give yourself confidence and carry on with the experience that you still don't know where it will lead you. It is difficult to take the first step into this unknown, the rest then follows.
When embarking on these 'adventurous' journeys, are there any precautions you should take in terms of safety?
"What I recommend to everyone is to take out good health insurance, I experienced this first hand three years ago when I had a serious bicycle accident. Luckily I had travel insurance which allowed me to access treatment and then be transported to Italy without any problems.
Another tool that I consider fundamental is the satellite tracker, with this and a good insurance, even if I am in the middle of the desert or in the mountains and something happens to me, I can think of a way to get myself out of trouble'.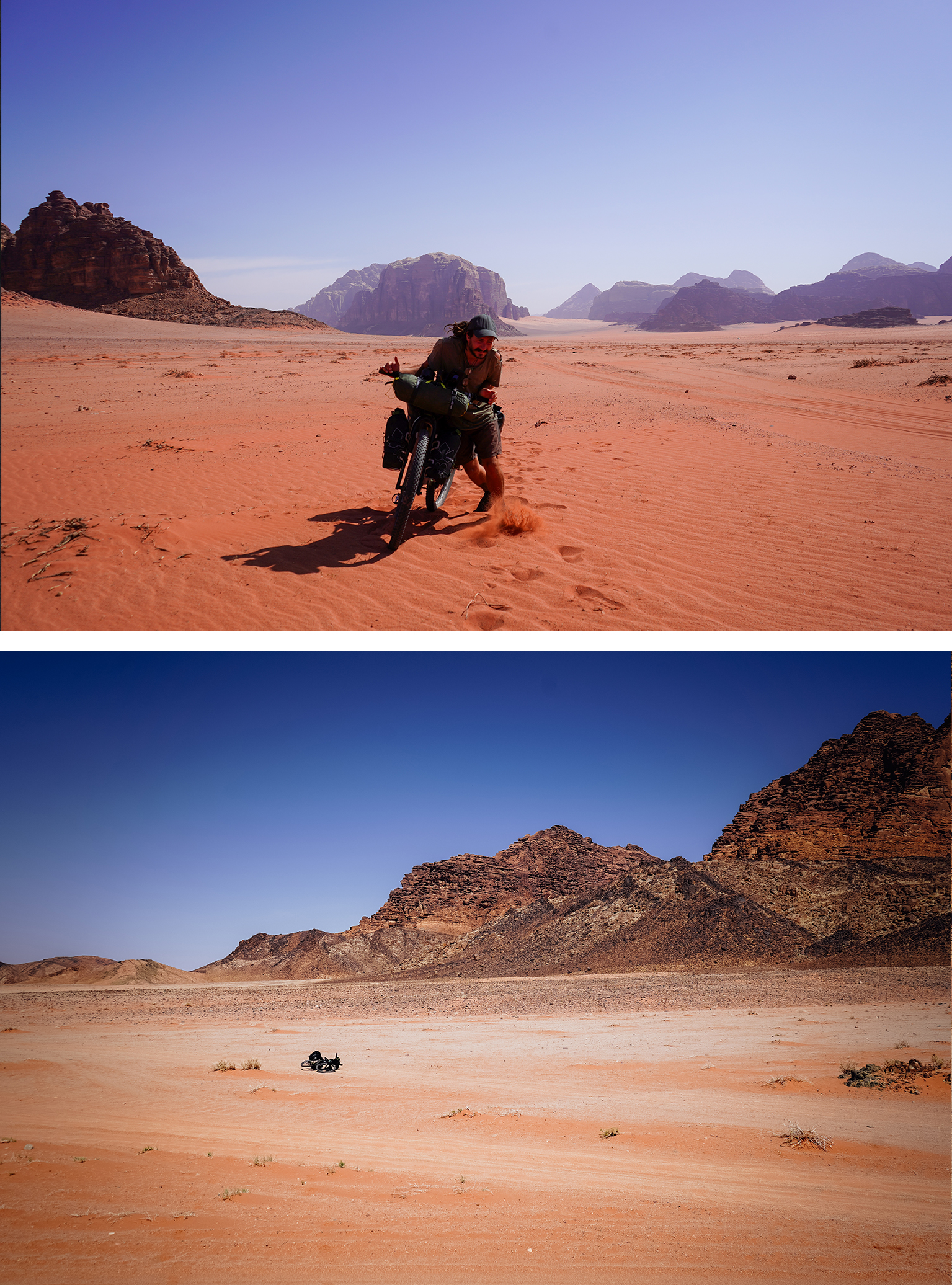 For someone who is always on the road like you, even the concept of 'home' probably takes on a different meaning...
"My latest book, the fourth one I have written, is called 'La strada verso casa (The Road Home)', not so much as a place, but as a feeling. The book is about my travels through Australia and Asia, during which I got closer and closer to Italy, but where, even when I was still thousands of kilometres away, I often thought: "here I feel at home!".
Those are moments when you can perceive that home is your body and that, wherever it is, you have eyes that are windows, legs to move and a mouth to talk to people, and so you can really find the possibility of living as if you were at home. You are at home!".